Sale!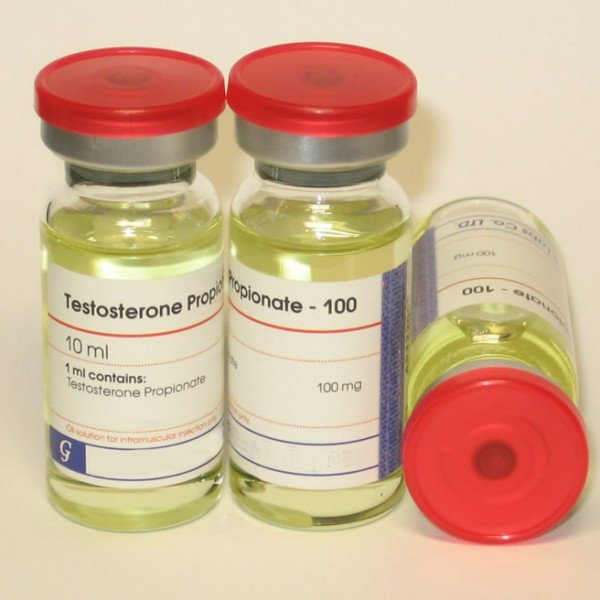 Testosterone Propionate is a single ester testosterone compound, and it is both an androgenic and anabolic steroid. Generally, it is a fast-acting steroid with a short half-life. For this reason, a frequent dosage is necessary, probably, everyday injection. This presents a higher degree of inconvenience to beginners.
The indications and contraindications
Essentially, Testosterone Propionate shots are used by men who are unable to produce enough testosterone through the natural process. In males, testosterone is useful in the development of muscles, genitals, and bones. It also enhances normal sexual development during the adolescence stage. In case of delayed sexual development in boys, testosterone propionate medication can be used to induce puberty. In some instances, this medication can be prescribed as an adjunct therapy to women with certain types of breast cancer.
Contraindications: Unless directed by a physician, children are not supposed to use testosterone medication. Likewise, athletes are not supposed to use it. For adults, a health care provider needs to know the state of your health before being allowed to use the medication. In addition to establishing your health status, the healthcare professional will perform regular bloodwork drawn when you are on medication.
How should I use it?
Testosterone Propionate injections are administered intramuscularly or subcutaneously in oil solutions (1% or 5% solution of the drug). Note that this medication should be taken under the direction of a medical professional.
For cases of surgical removal or congenital underdevelopment of sex glands, the recommended dosage is 25 mg every other day. When the condition improved the dosage can reduce to 5 – 10 mg daily or every other day.
For cases of impotence occasioned by male menopause, gonadal function, vascular and neurological disorders, and mental exhaustion and fatigue, then the recommended dosage is 10 mg per day or 25 mg three times per week.
In the early stages of angina and hypertension, the proposed dose is 10 mg for 1 -2 times a week.
For neurological and vascular disorders of climacteric nature, the recommended dosage is 10 mg every other day for 1 – 1.5 months.
The use of anabolic steroids for other purposes other than medical treatment, as in the above cases, is largely prohibited. In this case, the medication cannot be used by athletes or bodybuilders for sports performance improvement. In fact, most athletic organizations have banned the use of anabolic steroids.
How does it work?
Once it enters the bloodstream, some percentage of it is converted into estrogen through the process of aromatization and dihydrotestosterone (DHT) through a 5a-reduction process. Testosterone itself has some significant levels of Estrogenic activity. That is, it has the power to bind to the aromatase enzyme (an enzyme that converts Testosterone to Estrogen). It can also serve as a compound that boosts bulking while at the same time cutting fat. Testosterone stimulates Androgen Receptors (AR) directly or as DHT, and in the process, fat is broken down while muscle repair and growth start. It binds to the AR within the fat cell, so the formation of new fat is prevented while adipose (fat) tissue is broken down evenly. Some people still think that testosterone can promote aggressive behavior
Do I need a prescription for this medication?
Before you think of starting any testosterone replacement therapy, it is best to get a prescription from a doctor. Apart from allowing you to use the medication, the prescription contains the doctor's recommendation of what you should do before starting the therapy based on peculiarities of your health condition as well as your needs. It also states the limitations of the amount of medication you can buy.
You can get a testosterone prescription from a qualified doctor, especially the one that specializes in hormonal issues and therapy. He or she has to verify that you suffer from testosterone insufficiency. In most cases, you will have to fill a questionnaire about your medical history and go through a medical examination.
What will it do for me?
Low level of testosterone can leave one with a low quality of life, but the benefits of this medication can lead to remarkable improvements. In the early stages of low testosterone, one may display few sexually related symptoms. These could include:
Loss of strength
Insomnia
Depression
Weakened immune system
Irritability
Lethargy
Loss of mental clarity
Increased body fat
Regular administration of the Testosterone Propionate injections will cure most of the above symptoms. So, if a readily available medication like this can remedy most of the conditions associated with low testosterone, there shouldn't be an excuse to continue suffering from the problem. The good thing is that you can get several quality reviews from users who have benefited from the medication. If you choose to ignore some of these symptoms, they will start to mount and can lead to other more concerning conditions such as:
Diabetes
Infertility
Polyuria
Heart disease
Anxiety
Osteoporosis
Alzheimer's disease
Generally, the medication will reverse all the negative effects that our bodies suffer as a result of the low level of testosterone hormone. The medication will enhance lean muscle development, improve muscle strength, decrease body fat accumulation, increase mental focus, enhance sexual function, and improve the overall energy level of an individual. Other benefits that we get from the medication are the development of secondary sex characteristics such as firm jawline, broad shoulders, chest, and facial hair. It also increases regeneration and recovery which leads to faster growth and better body performance. Being a versatile anabolic steroid, this medication offers boosts to several anabolic characteristics which include:
Enhancement of protein synthesis
Increase the production of red blood cells
Boost nitrogen retention
Inhibit Glucocorticoid hormones
Increase IGF-1 output
How is it supplied?
Despite the increasing adoption of other forms of testosterone, Propionate medication is still widely available in most of the human and veterinary drug markets throughout the country. Besides the drug stores, there are several online retailers who offer the medication.
Who should NOT take this medication?
If you are pregnant or planning to get pregnant soon, you shouldn't use this medication. It can cause birth defects or harm the unborn baby. Besides pregnancy, you should not receive the medication if you have any of the following conditions.
Liver disease
Sleep disorder
Serious heart condition
Kidney disease
Lung disease
Breast cancer or prostate cancer
And any form of allergy towards testosterone