Despite all of the benefits that come from testosterone replacement therapy (TRT), there are cases when you might have to wean off testosterone injections. If injections are abused, it can increase your risk of erectile dysfunction, alopecia, cardiovascular problems, and even premature death.
Besides, TRT misuse can lead to physical and psychological dependence. Thus, when you attempt to quit the therapy you might experience debilitating symptoms of withdrawal and endocrine dysfunction.
Coming off TRT safely requires a proper approach combined with medications that can successfully alleviate the possible side effects.
How to wean off testosterone injections
Stopping testosterone therapy is generally safe, but depending on your approach it can cause symptoms of withdrawal and endocrine dysfunction. The withdrawal symptoms are usually short-lived and last 2-4 weeks until your body restores normal testicular function or adapts to your new T levels.
What to take when coming off testosterone?
Certain medications can be used to provide symptomatic relief against testosterone withdrawal. According to scientific literature, the most effective ones include antidepressants such as selective serotonin reuptake inhibitors (SSRIs).
Furthermore, the endocrine symptoms are also usually reversible and may last from 2 weeks to a few months. If there are persistent clinical symptoms of endocrine dysfunction, your doctor may prescribe you medications that stimulate the HPG axis and kick-start the natural production of testosterone.
Studies suggest that the best options are human chorionic gonadotropin (HCG), clomiphene, tamoxifen, and anastrozole.
More on the topic: How to Use and What Effects to Expect from Anastrozole (Arimidex)
Another strategy to reduce the risk of side effects is tapering off the dose of injections as opposed to stopping TRT abruptly.
How to taper off testosterone
Tapering off testosterone is an approach based on gradually reducing the dose and preventing any drastic changes in your hormonal levels. The strategy is highly recommended if you were on therapy for a long period and your HPG axis is likely suppressed.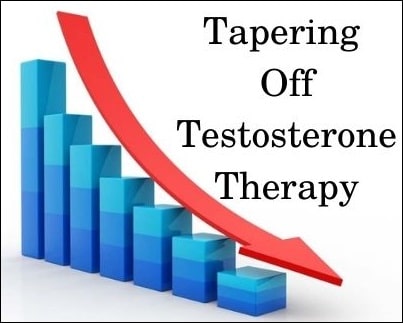 By tapering off TRT you are allowing for your natural testosterone synthesis to return and eventually reach its pretreatment levels before the effect of the therapy is completely gone.
The best way to taper off testosterone will be determined by your doctor and the process usually takes 3-4 weeks
Tapering off testosterone is generally better than abruptly stopping TRT as you reduce your chances of experiencing a complete lack of testosterone before your natural synthesis restarts and thus you reduce your symptoms.
What happens if you stop TRT cold turkey?
If you were on a TRT that lasted less than a month, short-term trials suggest that stopping testosterone injections cold turkey is not likely to result in any side effects.
On the other hand, a sudden testosterone withdrawal after prolonged therapy is a shock to your endocrine system and will result in a combination of mental and physical symptoms. Usually, this is unnecessary and can be avoided by gradually tapering off the dose of TRT.
No matter what approach you choose, the symptoms may vary between individuals. Thus, getting off TRT is safe only when supervised by an experienced medical doctor.
How long does it take to wean off testosterone?
Testosterone stays from 2 to 8 days in your system after the last dose depending on what form of testosterone you are using. After this period, it might take from 2-4 weeks to a few months for your T levels to return to their pre-treatment values.
Multiple factors will impact how long it will take your HPG axis to return to normal, such as:
age, gender, other individual characteristics
previous medical history (hypogonadism)
pretreatment testosterone levels
whether TRT was combined with other medications
duration, average dose, and form of TRT
history of substance abuse
The whole process of weaning off testosterone injections by tapering off the dose and adding medications can take about 3-4 weeks on average.
Instead, if your approach is to wait for spontaneous recovery, then it might take more than 6 months until the natural testicular function is completely restored.
Studies suggest that the spontaneous recovery of spermatogenesis which reflects natural T production may take up to 6 months in most (67%) individuals who come off testosterone therapy.
It took 12 months for 90% of men to restore their sperm count to recommended ranges and up to 24 months for 100% of the participants to achieve healthy values.
During the period required for spontaneous recovery, some of the endocrine dysfunction symptoms may progress. These include changes in your appearance such as loss of muscle mass and fat gain. Besides, men might experience reduced bone density and persisting sexual dysfunction.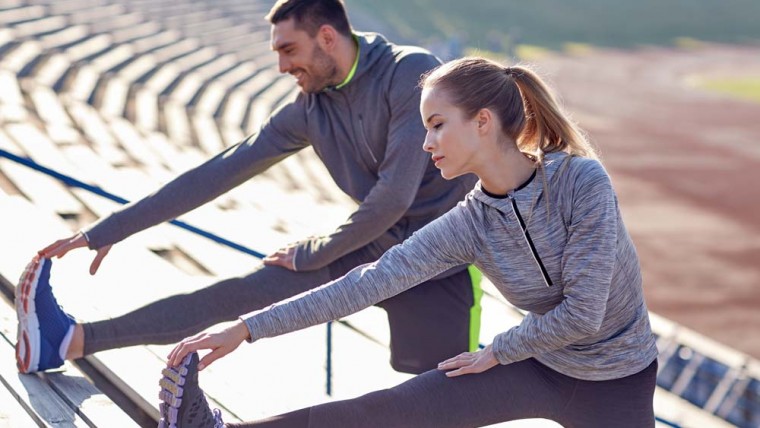 Some lifestyle changes such as improving your sleep and adding more physical activity to your regime might provide benefits for your T levels and make the process of spontaneous recovery easier.
However, other natural remedies such as herbs and supplements should be approached with caution.
Despite claims from the supplement industry that various products may increase your natural testosterone synthesis. Currently, there is a lack of sufficient evidence from human studies to support them, and neither of these products is FDA-approved.
What are the side effects of coming off testosterone?
If you previously had hypogonadism then your symptoms will return when getting off TRT. Besides, there are two main side effects you might experience after long-term high-dose TRT – endocrine dysfunction and withdrawal.
Testosterone production in the testicles is regulated by the hypothalamus and the pituitary gland, which form the hypothalamic-pituitary-gonadal (HPG) axis. High levels of exogenous testosterone trigger a negative feedback mechanism in the HPG axis which no longer stimulates your testicles to produce hormones.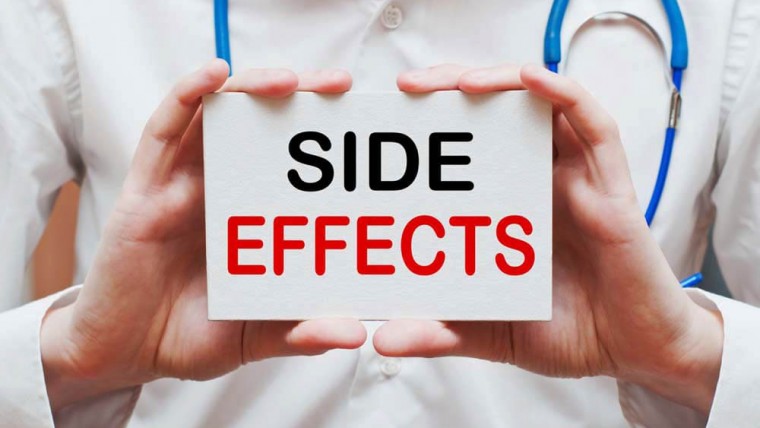 Long-term therapy leads to prolonged suppression of the hypothalamus and the HPG axis. It causes an endocrine dysfunction called secondary hypogonadism which manifests with hindered testicular function and atrophy. The testicles also shrink in size and the process of spermatogenesis is suppressed, leading to infertility.
When you stop therapy, the function of your testes remains suppressed due to a persisting HPG axis dysfunction and the low T levels often lead to symptoms such as:
loss of bone mineral density and osteoporosis
breast tenderness and gynecomastia
sweating and hot flashes
erectile dysfunction and infertility
mood swings
brain fog
loss of muscle mass and strength
loss of facial and body hair
Apart from endocrine problems, discontinuation of high-dose, long-term TRT can also lead to testosterone withdrawal symptoms such as:
depression
uncontrollable desire to get back on testosterone
sleep problems and insomnia
lack of energy and fatigue
lack of appetite (anorexia)
decreased libido
muscle and joint pain
headache
None of the physical side effects of quitting TRT are life-threatening
However, some of the depressive symptoms might include suicidal behavior. People with a history of depression or suicidal thoughts should be closely monitored by medical doctors and prescribed medications to ease the symptoms if indicated.
The Takeaway
Coming off TRT after a long-term treatment can lead to debilitating symptoms of withdrawal and endocrine dysfunction.
The process requires close medical supervision, a gradual approach, and the use of prescription medications to restore the normal function of the HPG axis.
You can receive high-quality medical assistance from experienced endocrinologists. Our doctors will carefully monitor your condition and minimize the risk of any side effects.