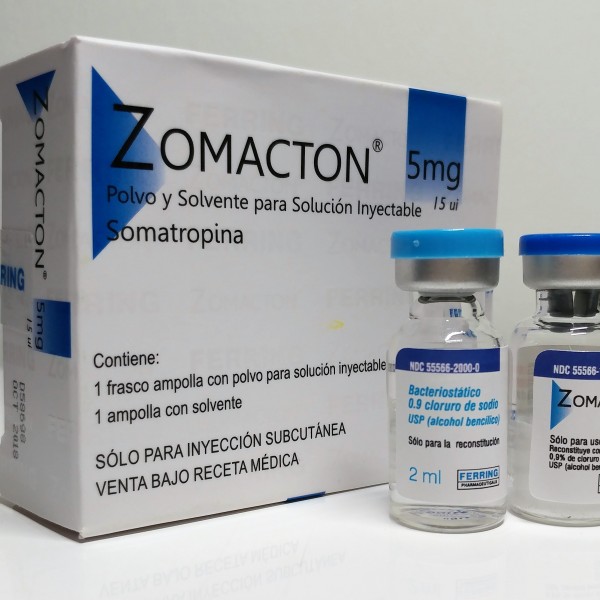 What is Zomacton Used For?
Zomacton is a proven Somatropin therapy and used to treat adults who have a growth hormone deficiency (AGHD). Mostly that happens due to a reduction in the secretion of HGH and causes hormonal imbalance. This deficiency in HGH usually happens because of an underactive pituitary gland. As you age, the secretions of the pituitary gland get reduced leading to a general reduction in the overall growth process. Zomacton is an artificially synthesized hormone that can replace the normal human growth hormone (HGH) secreted in your body. It acts very similarly to the growth hormone naturally produced in your body. 
Zomacton is the product of Ferring Pharmaceuticals which is a German company. It has an amino acid sequence that is very similar to the human growth hormone (HGH). It is a highly purified preparation, and its reconstituted solution for injection has a pH value of 7.0 – 9.0.
Zomacton is a prescription medicine and needs the supervision of an experienced doctor for its usage. Zomacton is available as subcutaneous injections that are taken using a needle or a needle-free device called Zoma-Jet. It comes in two potencies of 5g and 10g. It consists of white powder and a diluent liquid. The powder is mixed with the diluent fluid to prepare the injection.
This reconstituted liquid should be refrigerated and can be used up to 14 days (5g) to 28 days (10g). Refrigerating both the opened and unopened vials of Zomacton is essential. You should always inject the medicine at room temperature. Do not reuse your injection needles. It is essential to rotate the injection areas every day. You can take these growth hormone injections in the stomach, upper buttocks, upper arms, and upper thighs.
Benefits and Side Effects of Using Zomacton
Zomacton injections help adults with GH deficiency to build strength in their bones, hair and nails. The functions of their immune and circulatory systems improve, so they are able to prevent illnesses and repair bodily injuries.
Zomacton is a simple and effective way to increase your HGH levels. Zomacton injections also offer a possible reduced risk of fractures and osteoporosis, especially in women. It may improve erectile function in men. Both men and women may notice tighter skin and may gain greater muscle strength. It also may reduce body fat deposits and restore the thicker, lush hair of youth. Zomacton may also help to support your immune system function. 
In addition, weight loss is one of several Zomacton benefits that include:
Increased bone growth

Increased muscle growth

Increased body growth

Treatment of bowel syndrome
Zomacton is a medication that must be obtained only with a prescription. The drug is safe for use by children and older patients with GH deficiencies. However, it is not beneficial for use by people with severe medical conditions like cancer or diabetes
Human growth hormones have shown a wide range of positive results in medical studies. With regular usage and the correct dosage of growth hormone injections, there are positive signs of growth in muscles and bones. Users can enhance the Zomacton benefits by following a healthy diet and exercise plan. Like with all drugs, there are side effects and drug interactions. 
Side Effects of Zomacton
There is no question that Zomacton injections are effective for those who are looking to treat growth hormone deficiency or short bowel syndrome. But it is also important to know about adverse reactions Zomacton injections could have on you. Like any other hormonal treatment, Zomacton does have its side effects. Please be aware of some of these possible ensuing conditions:
Headache

Dry mouth

Nausea

Muscle Pain

Fast or Slow Heartbeat

Bloating

Vomiting

Pressure in the stomach

Joint pain

Loss of appetite
Although these symptoms are typical for many types of hormone replacement drugs, they are especially typical for this one. Pay close attention to whether you get these symptoms and the severity of them after you start taking GH injections of Zomacton. If these side effects are particularly bothersome to you, contact your doctor and he or she will give you a variety of options, including the possibility of lowering the dosage of the injections.
How to Inject Zomacton
Zomacton is manufactured by Ferring Pharmaceuticals and is available in 5mg and 10mg dosage forms. It's supplied as a kit with powder that must be reconstituted before use. A special liquid, called a diluent, is supplied for this purpose. Zomacton administration involves mixing the diluent with the powder. This will form a liquid, which is then drawn up into a syringe, ready for injection. The kit comes with exact directions on exactly how to use the product. Your doctor will also explain the process further. You must rotate the body sites for the injections as directed.
Ferring also offers this product with a needle-free delivery system for those who would prefer to avoid needle injections. It's called Zoma-Jet. It's only available with the 5mg dosage strength. It's a needle-free delivery system that disperses the hormone directly through the skin. The 10mg dose is available as a prefilled diluent syringe. This makes mixing the product a little easier. Once mixed, Zomacton can be stored in the refrigerator, vial in the upright position, for up to 28 days. Store unreconstituted powdered product in a cool place away from light. Discard any expired Zomacton.
The dosage of HGH will vary from person to person. It's adjusted for body weight and other factors by your physician, who will determine the correct dose for you.