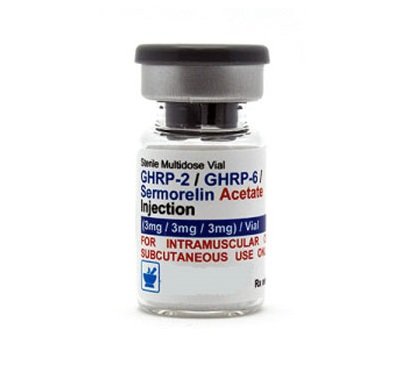 Are you an adult over the age of thirty? Have you noticed symptoms such as depression, anxiety, less muscle mass, and tone, or decreased libido? If so, these symptoms could be a sign of a lowered level of somatropin, or human growth hormone, in your body. Sermorelin injections will likely be able to help you by encouraging your body to produce more of its own somatropin. With increased levels of somatropin, not only will your negative symptoms go away, but you will likely experience a generally more youthful feeling and outlook.
Growth hormone isn't just for children. It's produced by adults as well, although, in many cases, not in enough quantity to keep an older adult looking and feeling their best. In our clinic, we work only with adults looking to improve their quality of life through hormonal replacement therapy. We don't work with kids or with athletes looking to sharpen their competitive edge.
Sermorelin, along with any type of hormone replacement therapy, or HRT, must be prescribed and monitored by a licensed physician.
What is Sermorelin?
Sermorelin acetate is the name of a substance that stimulates the pituitary gland in the brain, which normally secretes somatropin or human growth hormone. So instead of injecting somatropin itself, sermorelin is used. The sermorelin then tells the pituitary to produce more somatropin. Because sermorelin prompts the body to produce more somatropin, more natural effects are seen. This method more precisely mimics the pituitary gland's natural function.
This is because the pituitary is only prompted to produce more of the hormone. The actual amount secreted will be decided by the pituitary gland itself. This isn't the same as injecting somatropin. The dosage can be tricky and vary greatly from person to person. If too much somatropin is present, the pituitary may respond by stopping all somatropin production, resulting in a sudden drop of the hormone, which is the exact opposite of the point of HGH treatment.
Who Can Take it?
Your doctor will make that final determination. If you're pregnant or have a brain disease or injury, be sure to let the doctor know. Also, be sure to tell your doctor about any and all medications you are taking. As long as you're honest with your doctor, sermorelin therapy is safe when taken under medical supervision. In the absence of any contraindications, you can safely take this hormone and see the benefits for yourself.
How Long does it Take to Work?
After beginning therapy, many patients will notice that they are sleeping much better within the first few weeks. It generally takes between three and six months to see full benefits.
Want to Feel Younger and More Vibrant?
So if you've been dealing with vague symptoms and feelings that things just aren't right, consider sermorelin therapy. Here at our clinic, we offer Sermorelin GHRP-6 injections and much more. Our experienced and professional physicians will be able to diagnose your problems and prescribe the appropriate hormonal replacement therapy. You can call us here and we will be happy to answer all of your questions professionally and discreetly. It's all confidential, too. We look forward to serving you.